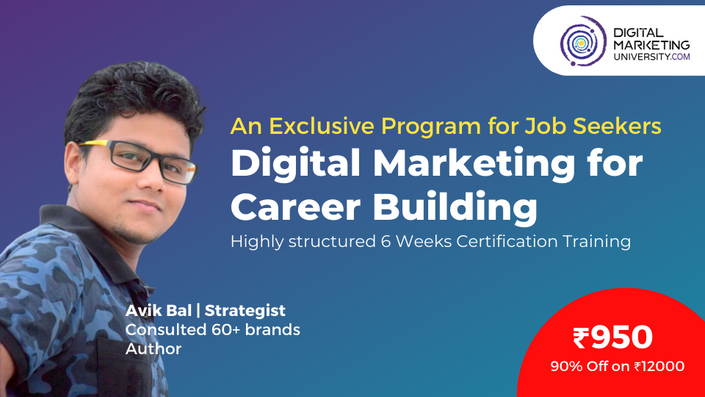 Digital Marketing for Career Building Program
Master Digital Marketing - Structured Learning to make You a Full Stack Digital Marketer
Course Brief & Benefits

The course structure is crafted keeping in mind the latest trends and different facets of digital marketing. It gives you practical exposure to different digital channels and also help you learn the strategies for better results.
Learn by doing it

The course covers an extensive range of tools, terminologies, case studies and campaigns that provide in-depth and experiential learning to the students who want a promising career in the digital world. The course is hugely interactive with projects, checklists & actionable lectures built into every section. The course structure is designed by industry leaders who have trained and mentored over 5000 students and business leaders globally.

Course outcomes
Build digital marketing strategy from scratch
Learn to run world class paid campaigns for lead generation
Land a high paying job in digital marketing
Work from home and make money as a freelancer
The course welcome kit includes
6 months access to the Digital Marketing Foundation program content
Certification of completion with badge DMU Professional
Google, HubSpot and SEMrush certification reading material and mock papers
Q&A webinar every week with your instructor till the course is over for you
100% downloadable study material (wherever applicable)
One on one career mentorship session
Testimonials
The Concepts on competitor analysis, UI/UX, brand positioning, pricing and digital sales are way better than the courses in other online platforms.
The insights are comprehensive and gave a new perspective on how digital marketing works. I was able to implement the strategies right away.
The best subjects I have studied during MBA. Live demonstrations and conceptual assignments gave us a hands on understanding of the subject.
A real eye-opener to the vast ocean of possibilities that exists in the social media domain. A must attend for those who want to capitalize on that.
Session covered the marketing in overall perspective. Instructor was very knowledgeable and patient in handling a wide range of questions on the subject.
Budgeting is a complex task in digital. However, the structures demonstrated in the workshop to plan digital marketing spend seem to be really useful.
The content is exciting and worth every minute. It was highly informative and gave useful insights about digital from a marketing perspective.
Your Instructor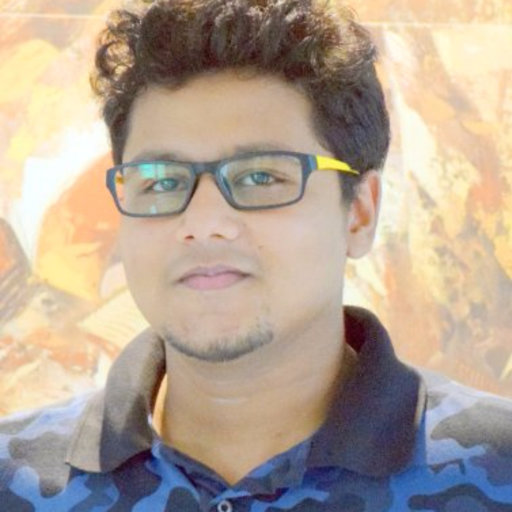 Avik is a full-stack digital marketer and a passionate UX/UI/Web Designer. Over the last 7 years, he has consulted 60+ brands with their digital growth and branding strategies. A Google, Hubspot, and SEMrush certified professional with core expertise in Inbound Sales Funnel Automation, Content Marketing, and Digital Brand communication.


He has also authored a book on "SEO Audit" (2017)(ISBN: 9781521428955) and authored 5 Global Market Reports on Consumers and Economies over 2018-2019. Previously, he has worked with Unacademy, GlaxoSmithKline, Nearbuy, Euromonitor International and currently heads the product development at DigitalMarketingUniversity.

Frequently Asked Questions
When does the course start and finish?
You get access to the course content for 6 months starting the day you are enrolled for this! The content of the course is upgraded every month and we keep on adding content on trends, case studies, campaigns, etc to keep you updated with whatever new is happening in the digital marketing space.
Why such a huge discount of 90%?
During the hard times with Covid raising challenges for businesses worldwide, we wish to do our bit. Many of our existing clients are facing issues in terms of customer retention as well as managing their teams. As thought leaders in this industry, we realized that the best way to help during these times is to help job seekers, professionals and students upgrade their skills and make them ready for the coming months.
Are these courses useful for digital marketers?
Absolutely, these courses are designed by thought leaders in the digital marketing domain and the techniques and tools discussed will be of great help to digital marketing professionals.
Will I get a certificate?
Yes, for each of the programs, you will get a soft copy of the certificate from DMU duly signed by the Chief Mentor, Mr. Aji Issac Mathew. Aji is also the CEO of eastern India's largest digital marketing agency - Indus Net TechShu Pvt Ltd.
Can I learn from my home or office?
Yes, we offer an online hybrid learning methodology that enables you to learn theory at your own pace and do practicals with the trainer in an interactive live online set-up every week.
I am working, can I still enroll in this course?
Yes, indeed. Our programs for working professionals are designed in such a way that even if you can spare 5-6 hrs in a week, it will be sufficient for you to get the maximum out of this program.