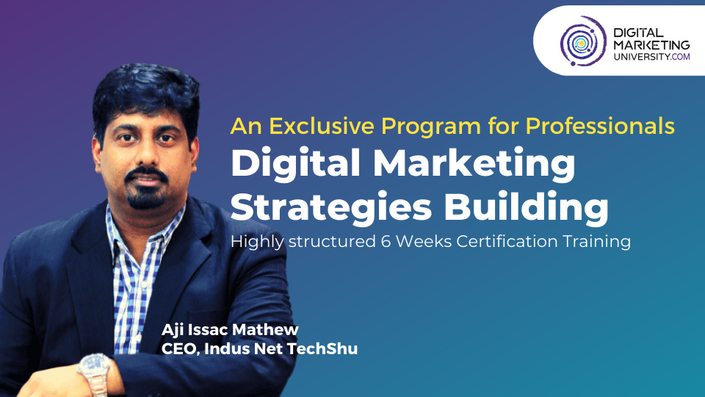 Digital Marketing Strategy Program
Effective is the word, how to earn respect by doing what is right when it comes to digital marketing strategies, opinions and ideas are not strategies.
Watch Promo
Why is it that some people are able to make amazing strategies and others are grappling with it. Why some strategies give amazing results than those of the others. Are you using opinion as a strategy or are you using the structure to plan a solid strategy that may churn results? The knowledge that you possess makes a big difference.
Digital is very powerful provided used correctly. The biggest challenge is the vastness it offers. One can spend the whole year working on various things but get very little result or spend some limited time on few selected areas to get exception results. Also it offers few things which other marketing channels may not offer like niche-group branding, research just before sales (some industries have 80%+ market here) etc. Some of it is very critical for SMEs.

We have trained over 2500 business leaders and marketing professionals as of today and the transformation has been substantial. It's all because of a structured digital marketing roadmap with a definite goals and outcomes.

Get a taste of what it means to possess powerful, logical structural thinking in digital to leverage its potential for business growth. Here are the training highlights:
Learn frameworks that will help you choose the right mix of digital channels
Learn to choose a compelling Call To Action for every TG-Channel set
Formulate a ROI driven strategy with the 12+ strategy components
Design ads for different channels, target group and buyer stages
Learn to optimize landing pages that can get 20-30% better conversions
1:4:12 rule of budgeting: Learn to manage your budget like a pro
Learn about the 4 digital markets and how everything falls under it
Tools that are critical for research, content, automation, design & analysis
Core marketing principles and how it impacts your digital marketing
Learn to conduct digital marketing reviews in the right way
How to have the right mix of people in the team and agencies and much more..
Wish to join the upcoming live online training? Click here
Testimonials
The Concepts on competitor analysis, UI/UX, brand positioning, pricing and digital sales are way better than the courses in other online platforms.
The insights are comprehensive and gave a new perspective on how digital marketing works. I was able to implement the strategies right away.
The best subjects I have studied during MBA. Live demonstrations and conceptual assignments gave us a hands on understanding of the subject.
A real eye-opener to the vast ocean of possibilities that exists in the social media domain. A must attend for those who want to capitalize on that.
Session covered the marketing in overall perspective. Instructor was very knowledgeable and patient in handling a wide range of questions on the subject.
Budgeting is a complex task in digital. However, the structures demonstrated in the workshop to plan digital marketing spend seem to be really useful.
The content is exciting and worth every minute. It was highly informative and gave useful insights about digital from a marketing perspective.
Your Instructor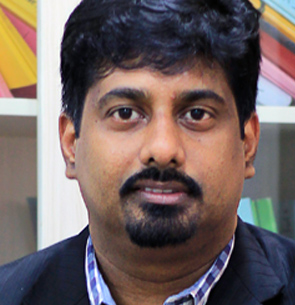 Aji is the CEO of Indus Net TechShu - one of the largest digital marketing agencies in India. With Indus Net & Indus Net TechShu, the overall team size is 700+, catering small to large enterprises over two dozen industries globally. A Google Premier Partner with a global focus and presence.
With over 16 years of experience in high-end digital marketing, Aji is considered a thought leader in the industry. Aji started his career in product development. A programmer and a digital marketer, Aji knows how to blend Tech & Marketing to achieve the right business goals. Aji is a visiting faculty at some of the top Indian and International business schools including XLRI, IIFT, MDI, UPH Jakarta etc. He is also the CEO, Co-founder of DigitalMarketingUniversity.com which trains Business leaders, Marketing Professionals, and Marketing Students on creating ROI-focussed digital marketing strategies.
Aji has delivered keynote speeches at the House of Lords, UK; India-UK Business Summit in London; and various events across the globe. He is also passionate about new-age HR, problem-solving and learning on how to learn in the digital era. He is very active on LinkedIn, you can connect with him to get infected with his passion and energy.